It's Autumn with Come to Gather DSP and the InKing Royalty September Blog Hop
Welcome to InKing Royalty's September Blog Hop! This year's Blog Hop themes are inspired by a single word – and this month our projects are centered around AUTUMN. There is so much to love about the transition from summer to winter, even if we have to wait a few more months to have a Florida Fall. Each of us has created a project which means Autumn and we hope you find inspiration in our Autumn-themed projects! After you read my post, I hope you'll hop over to the next person on the list at the base of this post.
The gorgeous colors in the blog hop banner are from the Come to Gather DSP.  This is the same DSP pack I used for this blog hop/Mojo Monday challenge.  With the completion of this card, I have about half of the 16 Thanksgiving cards I need.  Hopefully, I won't run out of this fabulous paper before I finish what I need.
Whenever I am stuck creatively I start looking for sketch challenges.  If I can pair a sketch challenge with a color challenge, I am a very happy stamper!
Here's the challenge banner from #MojoSketch523:
Here's the card I created:
Come to Gather DSP and the Harvest Hellos Bundle
I just love these colors for a Florida Fall card!  The deep, rich traditional Thanksgiving colors do not appear this far south.  Therefore, I am thankful for the vibrant colors of Pretty Peacock, Mint Macaron, and Early Espresso.  The very talented Stampin' Up! designers really created a phenomenonally gorgeous set of patterns and colors.
Since the measurements have already been worked out for the sketch, I used them for the base of my card.  I did scale down the two focal circle elements.  Once I had the large circle and the two pumpkins, I knew when I added the sentiment banner I would have an even number of elements.  I knew I needed a fifth element, but I also wanted it to be subtle, so I decided to use the Mint Macaron twine from the Nature's Twine set.  
Those pumpkins……. how fabulous that the one punch can create an adorable apple or pumpkin?  Talk about versatility!  Instead of embossing the Mint Macaron pumpkin I used the very subtle script pattern from the Subtles DSP.  When I stamped the pupmkin in Pretty Peacock, I did a little happy dance in my chair.  It worked!  YEAH!  
In order to accomodate all the popped up layers, provided by dimensionals, I needed to add a double high layer of them under the two pumpkins.  The picture of my card really doesn't show how much dimension these little adhesive hexagons provide.
As always, I used a piece of DSP for the envelope flap.  This time I chose the feather pattern.  I stamped pumpkins using coordinating from Gather Together on the front, bottom, left corner.
With that, this card/envelope set was complete!
The Rest of the Blog Hop Awaits!
Thank you for stopping by today.  I hope you'll hop along to the next stop on the blog hop, Shawn de Oliveira at Shawn Stamps.
. There's lots of inspiration to be found in this group – and you don't want to miss it!
Have a Peachy day!
Sue
Thank you for hopping along with us. If you get stuck during the Blog Hop, please use this line-up as a guide:
You Know You Want to…….
If you would like to order the bundle, stamp set, and/or punches,  and live in the U.S.,  please use the icon above to be connected to my store.  With just a few simple supplies, you, too, can create fabulous cards.  For example, check out this all-inclusive kit: Looking Up Card Kit, item # 149651 ($27.00).  If you include a Tombow liquid adhesive (item # 110755, $4.00) you will have everything you need  since the ink spot and embellishments are included..  One kit, 15 cards, 3 of each of 5 designs.  Score!  Check it out!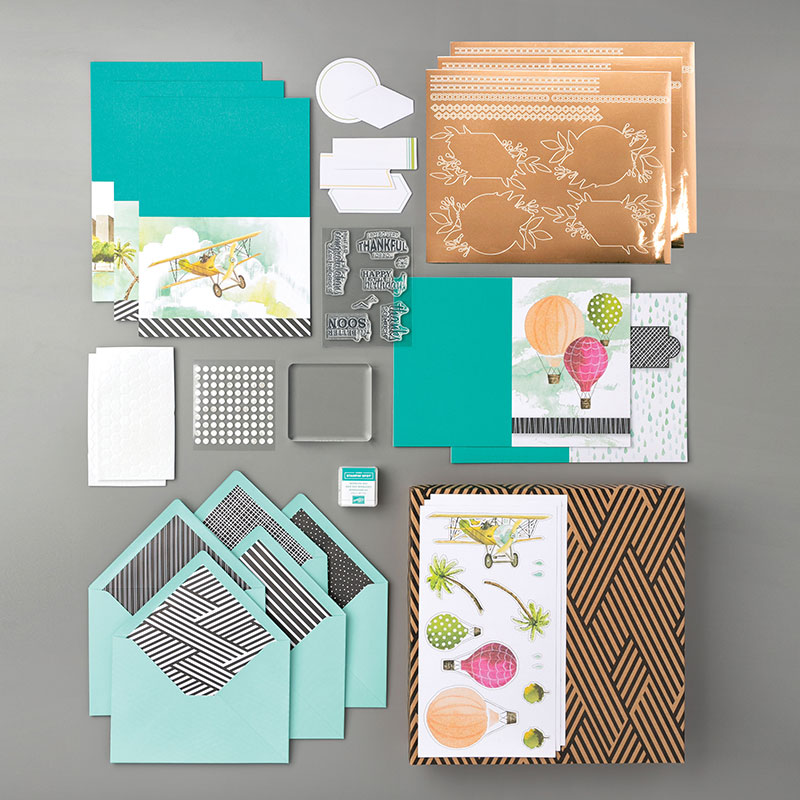 HOST CODE
IF you are placing an order (you know you want to do so) over $150, please contact me so you can earn all the Host Rewards for which you are entitled.  If your order is less than $150, please use YYX6FBEC for the host code.  
Wednesday was a HUGE day for Stampin' Up!  Not only did the Holiday Catalog go live for customers, the Buy 3, get 1 Free DSP sale from the annual catalog starts!  I already have my FOUR sets of DSP picked out!  Get yours now!  
To shop from the holiday catalog, available now, click on the image below: 
Harvest Hellos stamp set, item # 150581
Gather Together stamp set, item # 150589
Come to Gather DSP , item # 150454
6′ x 6′ Subtles DSP, item # 149615
Apple Builder Punch, item # 150663
Nature's Twine, item # 146342
Pretty Peacock cardstock, item # 150880
Mint Macaron cardstock, item # 138337
Whisper White cardstock, item # 100730
Pretty Peacock Stampin' Pad, item # 150083
Mint Macaron Stampin' Pad, item # 147106
Momento Tuxedo Black stamp pad, item # 132708
Stampin' Dimensionals, item # 104430
Mini-Stampin Dimensionals, item # 144108
Tombow Multipurpose Liquid Glue, item # 110755