Global Design Project Theme:  Balloons
The challenge this week was to use balloons:  hot air, word balloons, or party balloons.  Tomorrow starts a new Stampin' Up! ordering quarter, and the Above the Clouds bundle (item 151135) is on my list!  Isn't it fabulous?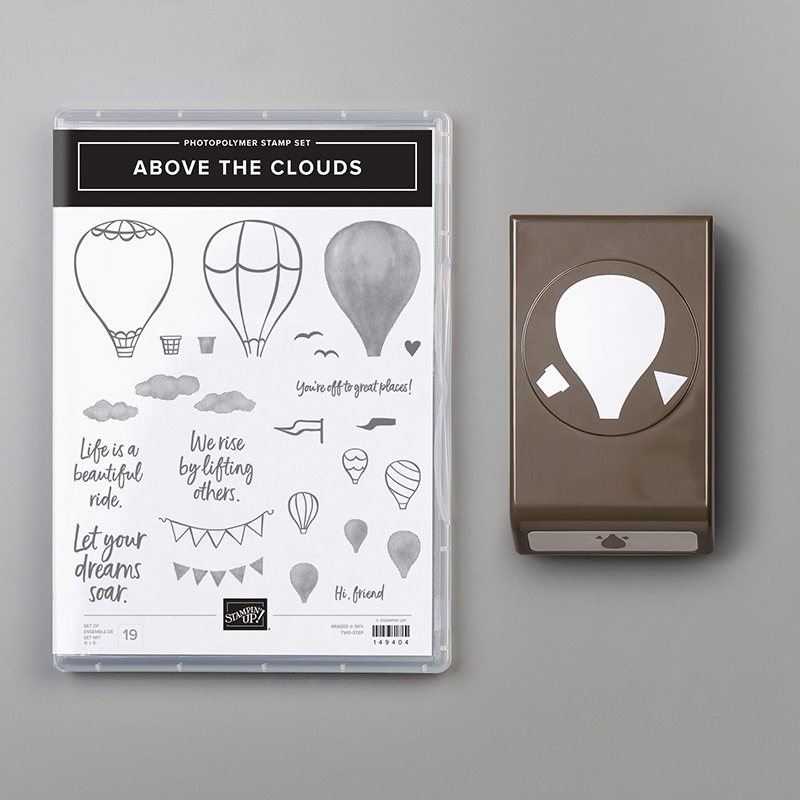 However, I pulled out the retired Lift Me Up clear mount stamp set, and started working.  I knew what I wanted to do, but I had somewhat of a problem bringing the whole card together.
Here's my card:
Here's the #GDP195 challenge banner:
Creating the Layers
I'm fairly certain that we've all started watching videos, click to another, then another, then another, etc.  I know I have, and in one of those video hops, I saw someone using a various circle punches to create a template for clouds.  Here's mine using Balmy Blue:
  Please excuse my 18 year old, well-loved self-healing mat.  If I could find another one exactly like it, I would get it in a hot minute.
To create the layers of the clouds, I just kept turning and sponging, turning and sponging, starting at the bottom.  This is actually the back side of the first attempt, which turned out too dark so I started over.  I'm pleased with the layers of clouds and especially the lighter and white spaces that were left.
Next came the hot air balloons.  In order to be able to use my blends to color in the balloons, I stamped them in Memento Tuxedo Black.  I used the light and dark blends in Calypso Coral, Highland Heather, and So Saffron.   Next came fussy cutting for the 3 balloons.  I chose the sentiment from the same stamp set and used the Pretty Label punch because I thought it looked like the clouds.  
When I dry-fit the pieces together, I knew it needed something, and not a ribbon.  I pulled out the SU rhinestones and used the string of small rhinestones on the Highland Heather balloon.  Then I had to walk away because I couldn't figure out what else was missing.
During dinner, I had an ah-ha moment, so I stamped the three clouds from the same stamp set, and fussy cut them out.  I'm actually much happier because now there is an odd number of elements on the card.  Balance has been achieved.
Thank you so much for stopping by today.  I appreciate your time.  If you like this and other blog posts, please submit your email in order to get post notifications sent directly to your email.
Have a Peachy day!
Sue