Global Design Project # 141
This week the color challenge is to use Real Red, Pumpkin Pie, and Rich Razzleberry.  I'll be honest and say I would never have put these three colors together, but when I saw the challenge post, I loved the combination.  I've had these colors bouncing around inside my head all week; I'd think of an idea and then discard it, and think of another and discard it again.  I finally decided I wanted the three colors included in one design.  When I looked through my new stamp sets (TOYS from the 2018 – 2019 catalog) I decided on the Hand Delivered Hostess Set, and the balloons were what caught my attention.
Here's the color challenge for GDP#141 so you can see these gorgeous colors all lined up:
Hand Delivered
Here's my finished card:
I used my Stamparatus for this card.  Since there is a problem when stamping too close to the hinges, I moved my Whisper White over to the right side.  There is a SU logo on the foam mat included which allows for a straight line without needing the grid.   When I line the right side of the cardstock up with the right side of the logo I have gotten a much cleaner stamping result.  
With the three Bright colors, I needed the rest of the card to be clean and simple.  My SU grid paper got quite a work out when planning this card.  I stamped all the pieces on the grid paper and then planned the color placement so I (hopefully) wouldn't mess up my mats.  Originally I colored each balloon with my Stamping Write markers, but decided the card was too flat.  Therefore, I stamped the balloons on a scrap of Pumpkin Pie, and another stamp on Real Red.  Fussy cutting was pretty easy for these basic circles.  Mini-dimensionals pop up the Pumpkin Pie balloons. Regular dimensionals pop up the Real Red balloons.  The result is a 3D layering of balloons, giving depth to the card.
I stamped the woman's skirt in Basic Black for the outline, and Rich Razzleberry for the striped overlay.  I very lightly touched her blouse with Pumpkin Pie, and the collar has a deeper coloring.  Real Red shoes finish off her outfit.   Everyone coordinates their clothes with a bunch of balloons, right?  
Finishing Touch
When I was "finished", I realized I needed a bit of something something on the card.  I didn't want to add anything outside of the stamped/colored images in order to keep the card clean and simple.  Therefore, I used clear Wink of Stella on the Rich Razzleberry balloons, but that didn't really solve my problem.  That's when I pulled out my (retired) Brights enamel shapes.  Each balloon recieved a coordinating star enamel shape.  The greeting had room for just one Real Red enamel shape, but it seems to work. Now, this card was finished.
This hostess set is super cute and very versatile with greetings for graduates, birthdays, and congrats!
Here's an image of this photopolymer stamp set: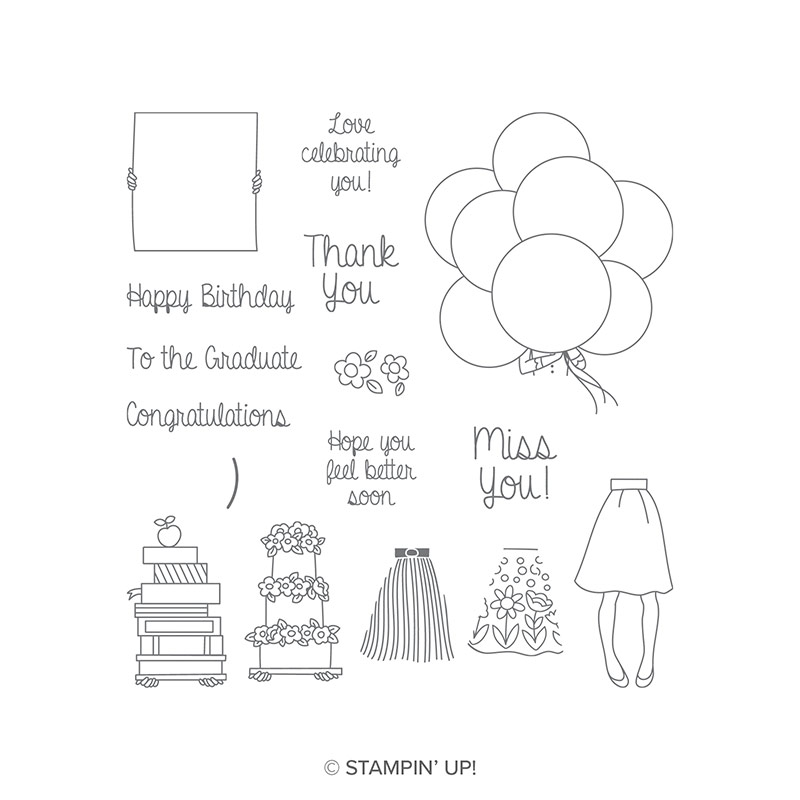 Super cute, right?
I hope you have a Peachy day!
Thank you for visiting my blog.  I love getting feedback, so please feel free to leave a comment.
Sue