I've always loved Dr. Seuss, always. So much so that I've read everything he's written, including his adult book, and seen his Academy Award films and his work for the Army during WWII. I can even tell you the story of how and why he wrote The Grinch Who Stole Christmas. Call me crazy, but for me, the Grinch is all about hope, love, and family. That's why my Christmas theme has been the Grinch for the past few years. As soon as I saw the Christmas Means More stamp set in the August – December mini-catalog, I knew I had to have it.
Here's the first card I created with this new set:
Next is a look at the stamp set. Notice that all of the sentiments are from classic Christmas movies. Can you name all four of them?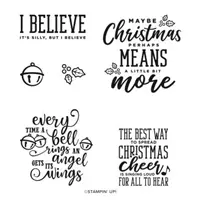 Here's the FMS444 challenge banner that inspired my card:
The card I created would have been very pretty in a simpler, cleaner form, which would be perfect for a beginner stamper. If you are reading this post now and think you couldn't create a simpler version of this card, let me show you how you CAN do it. CAS (clean and simple) is a very good thing when creating cards and requires only a few basic supplies. Here's a glance at the cover of the beginner brochure, which can help get to you to help you get started:
Maybe Christmas Perhaps Means a Little Bit More
I knew right from the start that I would be using the quote from Grinch for my card. I had to use trial and error for the rest of the card. However, the result really pleases me a great deal. As a matter of fact, I think my Christmas cards to family up north will be different sentiments but in this same design.
What I Did
This whole card started with the sentiment.
Using my Stamparatus, I stamped the sentiment in Night of Navy on white cardstock three times to get the depth of color I wanted.
After letting the ink dry thoroughly, I wiped the white cardstock with my embossing buddy to get ready for the next steps.
Clean off the sentiment stamp, but don't take it off the Stamparatus! I used my Absorber cloth to do this. Next, ink and stamp the sentiment using VersaMark. I did this three times to ensure that each and every piece of the sentiment would be adequately covered.
Cover the sentiment with clear embossing powder. Tap the back of the cardstock to remove the excess powder. Using the embossing buddy will help keep stray powder from sticking to the paper.
Heat set the embossing powder using my heat tool.
I cropped the sentiment using the largest square in the Stitched Shapes die set. The sentiment really seemed to be calling for some bling, so I used my clear Wink of Stella to color the holly leaves and berries. Doing this added a pop of silver to the sentiment.
Now for the real trial and error parts of the card: I used Night of Navy for the card base. I started with 4-1/4 inches by 11 inches, scored at 5-1/2 inches. This card opens up.
I cut the Balmy Blue mat to 4-1/8 inches by 5-3/8 inches and adhered it to the Night of Navy base. Actually, I skipped a step. I am all about saving cardstock. Since the whole center of the Balmy Blue won't be seen, I cropped it out of the middle using the stitched rectangle dies. It's our secret and no one will ever know.
Decisions, Decisions
The sentiment square measures 2-5/8 inches on each side. The foil paper mat under it measures 3-1/8 inches on each side. Finally, the Night of Navy mat measures 3-3/8 inches on each side.
The foil print mat is the reverse side of one of the Feels Like Frost DSP pieces. This print brings in the silver to more of the card than just the holly and berries.
After adhering the foil print to the navy mat, I popped dimensionals on the back of the navy. Then, I added dimensionals to the back of the sentiment and layered the pieces. Since there's two layers of dimensionals, this card might need extra postage.
The time had come to decide what to do about all the white space still left on the card. I really struggled with this decision, and love, love, love that I decided to use the brick and mortar 3D embossing folder.
Next, I trimmed the white background to 4 inches by 5-1/4 inches. I waited until after dry embossing the background because I didn't want the measurements to be short after using the folder.
More Decisions
Now I had to decide what to do about the strip under the sentiment/mat block. At first, I thought I would use the Balmy Blue glimmer paper. However, I decided it just didn't work. So, I grabbed the new Snowflake Splendor ribbon and decided that would be perfect. Mind you, while gorgeous, this ribbon is very stiff and making a bow for my bow-challenged self would have been really difficult. Therefore, I just wrapped the ribbon around the card, making sure that it fits just under the sentiment block to match the sketch.
Once I got all these parts together, I decided the brick needed some bling as well. However, I didn't want to use the snowflake sequins. After staring at the card front for a little while, I decided to use the clear Wink of Stella again. This time I highlighted the highest bricks for the whole card. Wink of Stella is very difficult to see in photos, but here's a close-up :
Finishing Up
The inside white mat was cut to 4 inches by 5-1/4 inches, but I haven't glued it down yet. I am not sure what I am going to use for the inside, and didn't want to make a mistake and have that mat already attached to the card. Once I decide, I will finish the inside.
For now, I did use the foil side of the Feels Like Frost DSP for the envelope flap. I always cut the flap piece to 6 inches by 2-5/8 inches and adhere it using multipurpose liquid glue. After trimming it down, this card/envelope set was complete.
In order to create enough Christmas cards to mail to family and friends, I am going to have to order another pack of Feels Like Frost DSP and some ribbon. I really like non-traditional Christmas colors, but think between the four sentiments in this stamp set, my cards will be easy to mass-produce. Of course, I will be posting more my Christmas cards as I continue to work on them.
An Explanation:
I have a bit of a dilemma when writing posts. You see, there's a running guide at the bottom of the post in progress which only I can see. It has all kinds of categories used to indicate how easy the blog post is to read. My OCD struggles with this quite a bit when trying to list and explain the steps to create a card. The subheading category goes from green, to yellow, and then to red when I am writing out directions. Yeah, I can't deal with red as it really bothers my sense of order. So, that explains why there are subheadings in the middle of the directions. I've tried letting a post go live with a red category and I just couldn't do it. I know it's an idiosyncrasy, but I just have to go with it.
As always, thank you so much for stopping by my blog today. I'd also love to hear what you think, and greatly appreciate every comment.
Have a Peachy Day!
Sue
Colors Used:
Supplies Used:
Guess What's Going On Now!
Bonus Days! Earn a $5 coupon for every $50 in product for the month of July.
Do You Want to Place an Order?
Of course you do! Even more so because of the products in the NEW catalog. This NEW catalog is FABULOUS!! Wait until you see the new MINI-CATALOG!! Stay tuned for sneak peeks of those items! I'll be using some new mini-catalog items for the InKing Royalty blog hop on Wednesday!
If you are ordering less than $150.00, please use the host code shown so YOU can take advantage of the STAMPIN REWARDS YOU EARN. If you are ordering more than $150.00, please contact me first so you can get your stamping rewards! I want YOU to get the stamping rewards you earn for your order over $150.00 Any order over $50 will earn a gift from me and an August – December mini-catalog. Just take a look at the gorgeousness of this cover:
I can't show you the inside pages until August 4th, unless you decide you just can't wait! Contact me if you'd like to join my team, with no commitment past the initial kit. The kit is $99 for $125 worth of product, which would easily get you supplies to make your own holiday cards.
The HOST CODE for JULY is K6NND3UU.