Absolutely Adorable Cows!
The new catalog has many "must have" products, and the Over the Moon cling mount stamp set is one of those "must haves"!  Just take a look at these cute as a button images!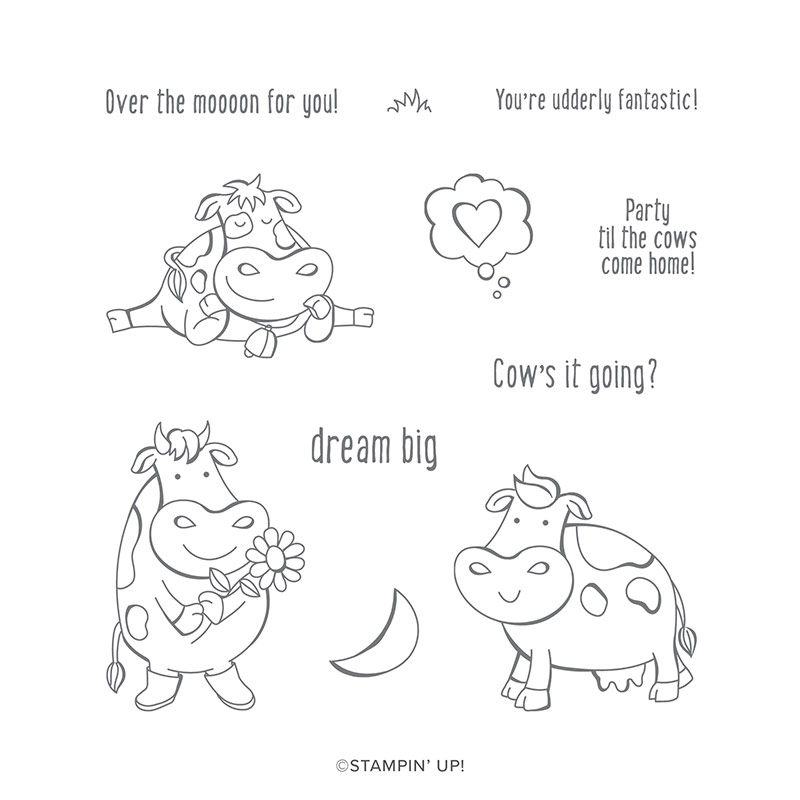 I just LOVE these cows and the sentiments.  Therefore, when I saw the banner for CTS #329, I knew I was going to use one of these cows.  
Here's the CAS(E) this Sketch banner:
I flipped the sketch and this is what I created:
This Cow Rocks Lovely Lipstick Boots
In order to create this card, I first stamped the cow and colored it with the Blends markers.  I used Light and Dark Basic Black for the spots, Light Smoky Slate for the hoofs, Ivory and Light Petal Pink for the ears and snout.  I colored her using the Light Granny Apple Green blend and light and dark Daffodil Delight for the flower.  After much thought, I decided to leave the tail white.   At the same time I decided to give her DSP boots.  Cute!  She needed some bling of her own, and the Lovely Lipstick enamel dots from the Happiness Blooms enamels fit the bill.  After creating the DSP boots (little bitty fussy cuttings),   I decided to use the In Color DSP as part of the sketch pieces, and another pattern for the envelope flap.
Rectangle Stitched Layered Rectangles 
These stitched dies are quickly becoming my go-to "must have" die set.  For this card, I used them to crop the cow, sentiment, and solid Lovely Lipstick cardstock.  Coloring in the ditch of the stitches seems to be something else I enjoy doing for emphasis. This time I used the Stamping Write Marker on the sentiment and solid cardstock.  In addition, I used the marker to outline the cow's rectangle.
Cards, and projects, with monochromatic colors always seem to turn out to be calming.  The same is true for this card, but it also makes me smile.  I hope you got a smile from it as well.
Thank you so much for stopping by today.  If you haven't already signed up for email notifications of new posts on my blog, please submit your email so you can see my creations.
I hope you have a Peachy day!
Sue